Sales Management CRM
Sell more effectively using best practices with Eudonet's Cloud-based CRM
Boost your sales and gain market share
Increase the productivity and mobility of your salespeople with our management tools
In constant contact with prospects and customers, your sales representatives need the ability to update and share information quickly, wherever they are. Eudonet brings the best sales management practices together in one tool to promote team mobility and collaboration. Accessible from any mobile device, Eudonet CRM's collaborative planner and optimized customer care help our clients increase productivity.
Close more sales
Closed deals are often those that have benefited from the best follow-up. By giving you access to all exchanges and sales made with your customers, Eudonet helps you ensure unparalleled account monitoring and develop cross-selling and up-selling strategies.
Adopt a professional sales approach with Eudonet CRM by planning relevant re-engagements and ongoing follow-up with your potential customers to earn sales.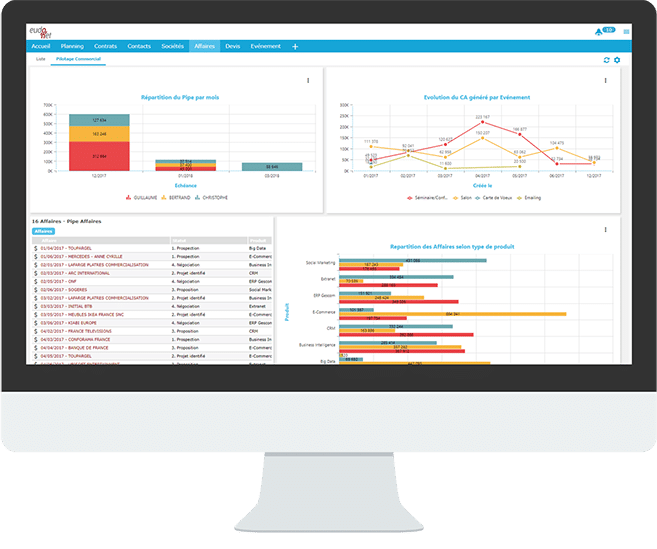 Issue quotes with ease and increase your productivity
Sales team results consistently depend on the productivity of sales representatives. Today, the most successful companies strategically optimize their administrative management to allocate their resources to high value-added activities. By simplifying and centralizing the issuing of quotes, Eudonet improves the productivity of your teams.
Easily track your sales and make the right decisions
Access your real-time sales forecasts using modern, customizable dashboards. Analyze your entire business wherever you are: monthly sales, pipeline of upcoming opportunities, sales by representative and by period, etc. With relevant information on-the-go, you can make informed decisions at any time.
A QUESTION ? CONTACT AN EXPERT!
BÉATRICECRM Expert