Eudonet: customer relationship management tools tailored to your needs
Discover Eudonet, the CRM platform for robust customer relationships
Organizations have historically sought to exploit natural resources. Whether it was gold, oil, gas ... Today, YOUR organization has a largely under-exploited natural resource essential to its survival: your data.
Eudonet offers a unique CRM platform to better utilize your data by optimizing its collection and updating and providing drill-down analysis tools to create a strategic asset for your organization's sustainable growth.
Our customers can testify , harnessing the power of your data and your contact network is the key to a lasting efficiency and growth of your organization.

Whatever your sector of activity, you can optimize your processes and simplify the coordination of your various project stakeholders. Save time and money with a CRM perfectly adapted to your specific needs.

The mastery of an editor,
the agility of an integrator
With more than 2,000 projects to date, Eudonet has the dual expertise of editor/integrator. This expertise ensures you a complete mastery of the recommended solution, from its creation to its implementation.

Eudonet CRM's flexibility gives you the possibility to add new features that will make you even more efficient. Visit the Eudostore to discover tools that will allow you to go even further in your customer relationships.
Do you have a CRM project?
We have been contributing to the success of our customers for over 18 years.
Eudostore
Un panel d'extensions pour être encore plus connecté à vos contacts et enrichir votre Eudonet de nouvelles fonctionnalités !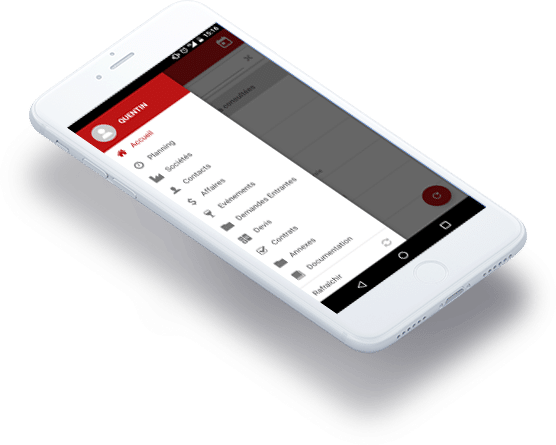 « Mettez tous vos contacts dans votre poche et accédez à votre base Eudonet en mobilité comme au bureau, sur iOS ou Android »

Eudo Touch
Eudo Touch is the essential extension for Eudonet software.Harness the power of your CRM in your pocket, on your Android smartphone or iPhone! Calendar, contacts, companies, email, SMS ... all functions are available on your mobile devices. Create, update or delete the data contained in your CRM on-the-go as well as in the office!
Learn more
Our services
Customized services for a successful CRM
OUR CLIENTS SHARE THEIR THOUGHTS ON EUDONET CLIENT RELATIONSHIP MANAGEMENT TOOLS

Montreal Museum of Fine Arts Testimonial
" The extraordinary thing for a project of this magnitude is that it was set up in just a few months. "
Gaëtan Bouchard, IT Director – Montreal Museum of Fine Arts

AQTR Testimonial
" In addition to saving us a great deal of time by optimizing our processes, we are confident that Eudonet and their team will enable us to overcome our future technological challenges. "
Martin Latulippe, Executive Director – AQTR