Manage the delivery of continuing education with ease
Développez les connaissances et le savoir-faire de votre audience grâce à Eudonet CRM
Improve how you deliver your continuing education program
Analyse and improve opportunity tracking
To optimize your business opportunities, you use a range of communications and presentation platforms such as website, social media, digital marketing campaigns, open days, fairs, and so on. You can enhance your database using all of these levers.
With Eudonet CRM, you can analyze your various sources of information to determine where you should concentrate your efforts and how you can make your campaigns more effective on each platform. You can use extranet x to manage incoming applications in real time including by creating a personal profile, each candidate feeds your database.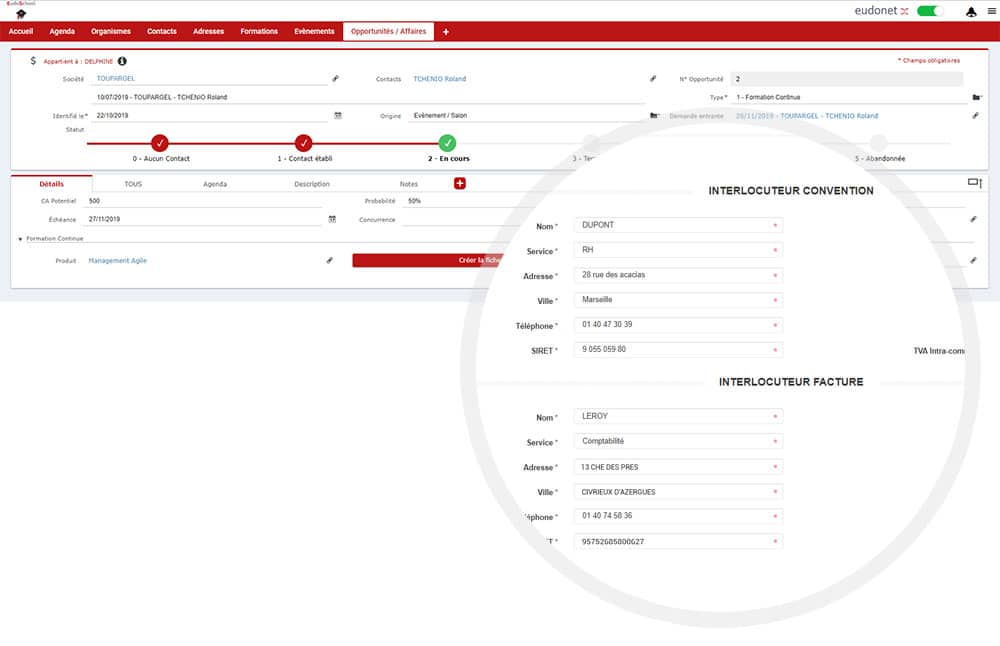 Expand your education and training prospectus
University, CEGEP, College and Training Centre prospectus' can showcase a wide range of different education and training including initial, continuing and professional training, short- or long-form, certification and skills training.
With the Eudonet CRM you can create and manage your education and training prospectus with ease and circulate it via your website to optimize session attendance. This is where you can also deal with the formalities and entry requirements, course fees, location, duration, dates, programs and educational objectives of your prospective learners (employees, job-seekers, and so on). If you have developed bespoke training for a commercial client, why not incorporate it into your product-base and offer it to other contacts? Using your CRM you can also formulate proposals, submissions and training contracts for individual signatories.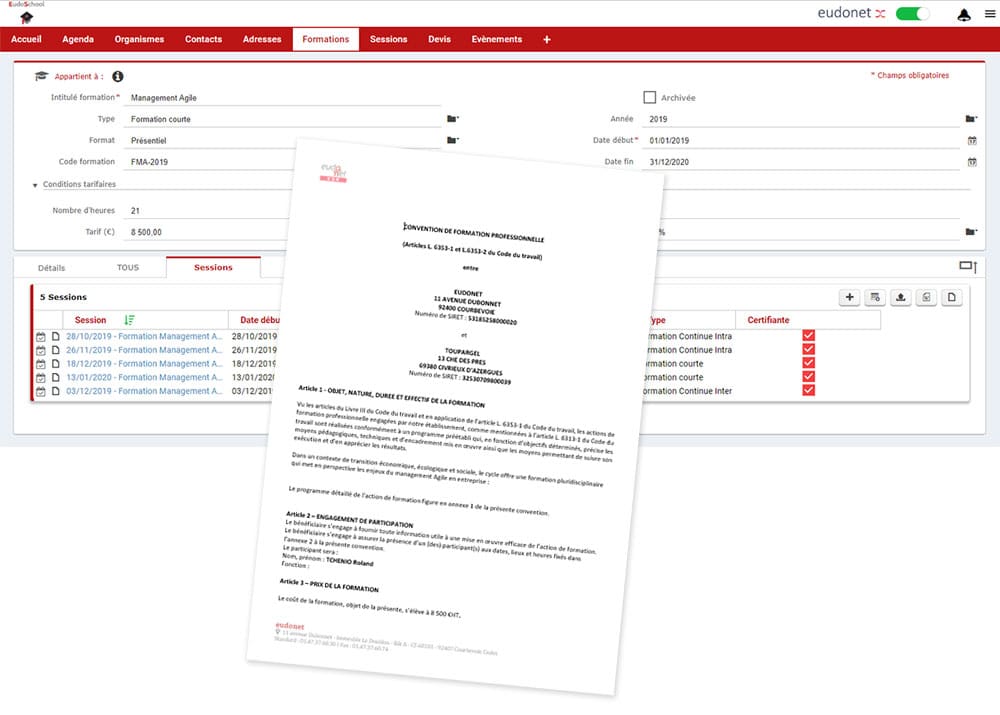 Manage your sales with ease
When it comes to signing up multiple stakeholders, speeding up the sign-up process and making it more reliable for contributors makes training management easier and less stressful for you.
With Eudonet CRM, the electronic signature (DocuSign) allows you to dematerialize your training contracts and improve work-flow. Depending on your terms and conditions of sale and solicitation, you can substitute or refund training by editing the invoices for each signatory and funder (State, corporate, and so on). With Eudonet you can track and update payments made for each course by both contributor and payment amount.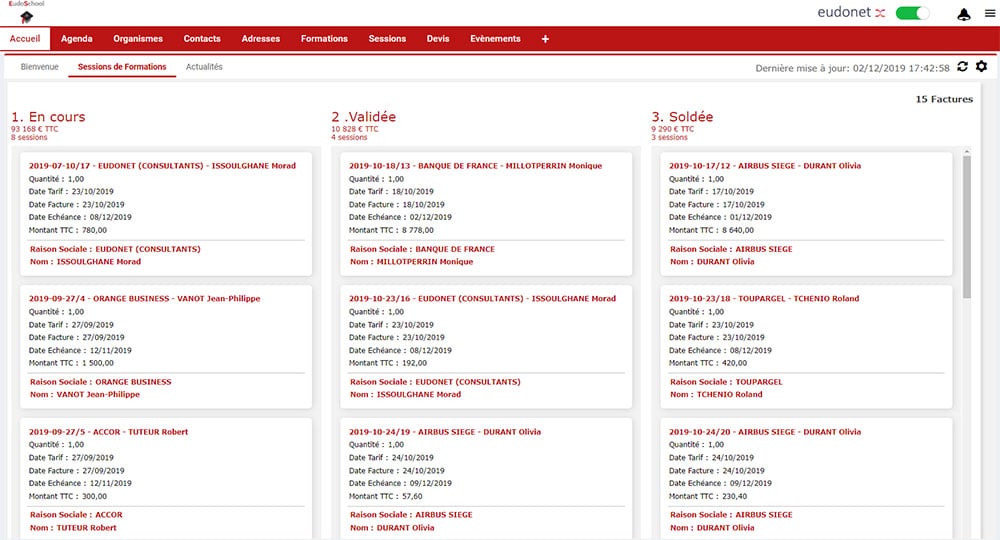 Ensure your sessions go well
Organizing your courses requires you to plan your institution's logistical and human resources. At the same time, you need to be able to manage administrative tasks (absence management, reporting, etc.) and also ensure learning is being supported.
With Eudonet CRM you can host your network of contributors, ensure they are available and select the best, most appropriate teacher. You can send out invitations to participants, manage attendance sign-in sheets and issue attendance or competency certificates.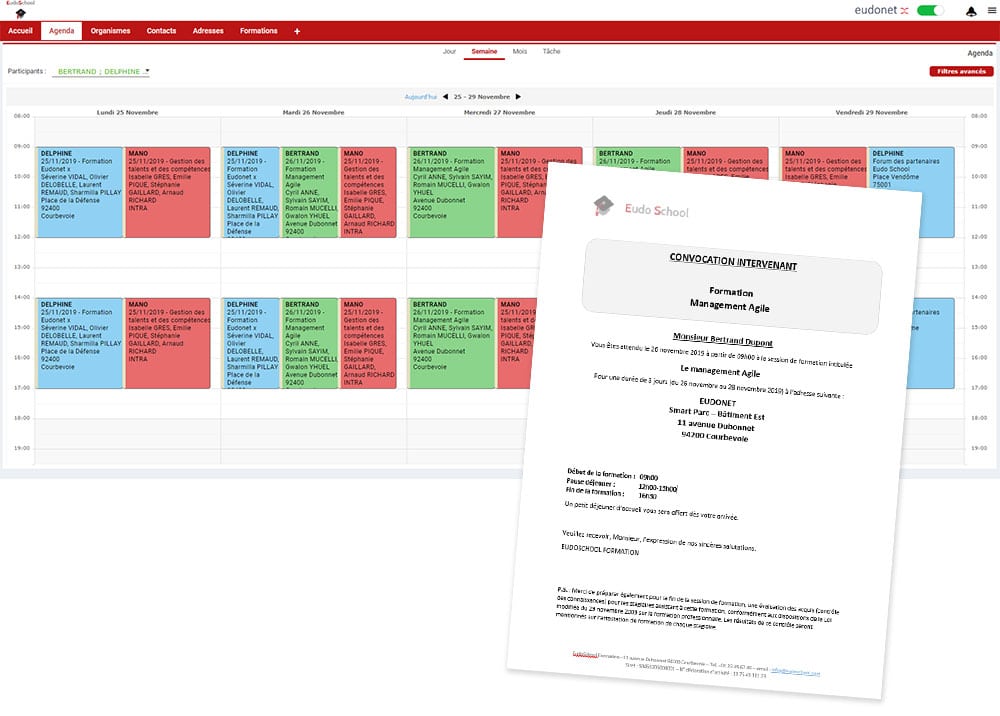 Monitor and continuously improve your education and training
To get a clear picture of the how well your institution delivers training and to improve the quality, you need feedback and comments from participants. You can then use this feedback to set your educational assessment.
Use the Advanced Surveys extension available in EudoStore to carry out hot or cold satisfaction surveys. The responses are automatically transcribed into Eudonet and you can evaluate each participant's experience with ease. You can really drill down into feedback on the courses that have been attended via your dynamic, customizable dashboard. Hence, you can more easily identify your potential future ambassadors.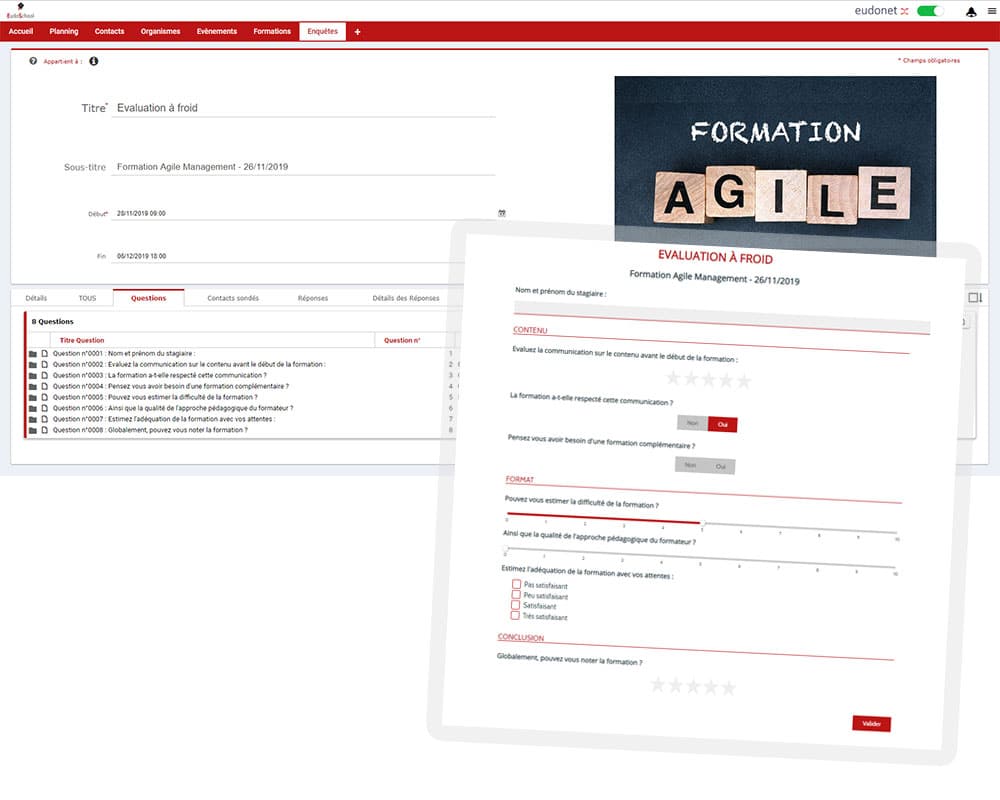 A QUESTION ? CONTACT AN EXPERT !
BÉATRICECRM Expert