Project management CRM
Easily manage your projects based on your processes with Eudonet
GIVE YOUR TEAM THE MEANS TO MAKE THEIR PROJECT SUCCESSFUL
Increase your project efficiency with Eudonet
A collaborative and easy-to-use management application
Centralize your data and statistics in one easy-to-use application that your entire team can access from any mobile device. The Eudonet collaborative planner allows simple and effective timesheet entry for daily project monitoring.
Share information with stakeholders
Information sharing within work teams is essential in project management. Improve the productivity of your teams with a collaborative tool that offers a 360-degree view of your contacts and projects: timesheets, emails, calls, meetings, documents, notes, etc. In short, promote the involvement of your project's stakeholders by giving them access to as much useful information as possible.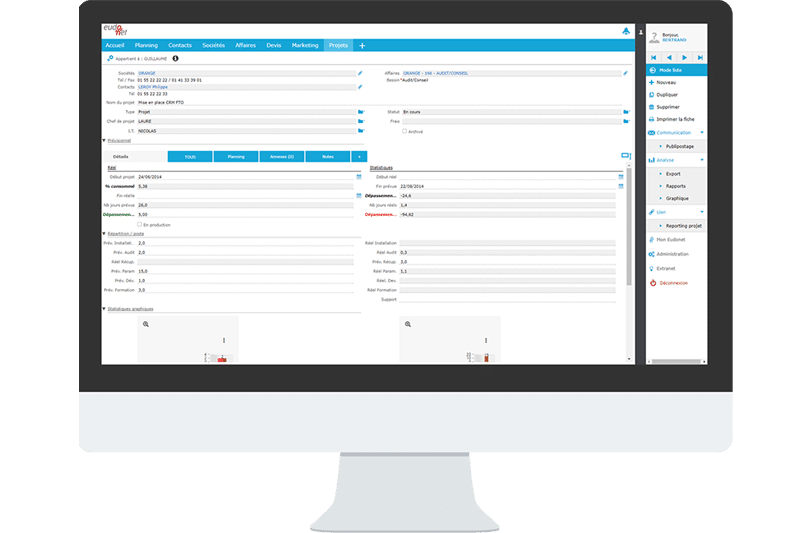 Improve your project monitoring
Access a real-time breakdown of time spent on each task and project-related expenses. Compare actual costs with estimated costs, accurately track your budget and make the right administrative decisions. The notification system allows you to send informational alerts to one or more of your users and collaborators directly in their Eudonet session.
Make the right decisions with reliable data
The analysis tool provides great freedom in the creation and issuing of reports and statistics. You can quickly find the information you need, no matter where you are. Evaluate your team performance and identify areas for improvement to make your future projects a success. By focusing your energies on the processes that can be gainfully optimized, you make better use of available resources.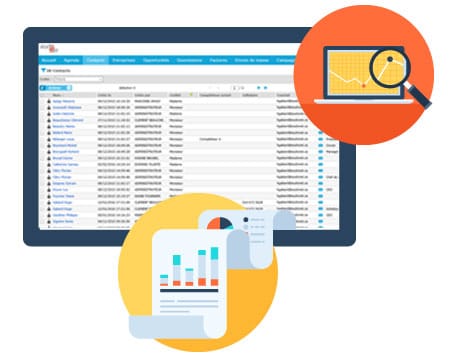 A QUESTION ? CONTACT AN EXPERT!
BÉATRICECRM Expert