Guarantee success with every opportunity
Grow your company through additional sales > CRM
Better performance for better growth
Agile organizational navigation
With a 360° overview of your organization, you can precisely track and monitor your business and manage your teams more efficiently. These elements are key to your company strategy and, hence, its growth.
You can run every aspect of your business via Eudonet. All decision-making vectors are united within our solution: sales teams, clients, products, services, complex bids, BtoB, BtoC, forecast turnover, progress, from prospect to signature.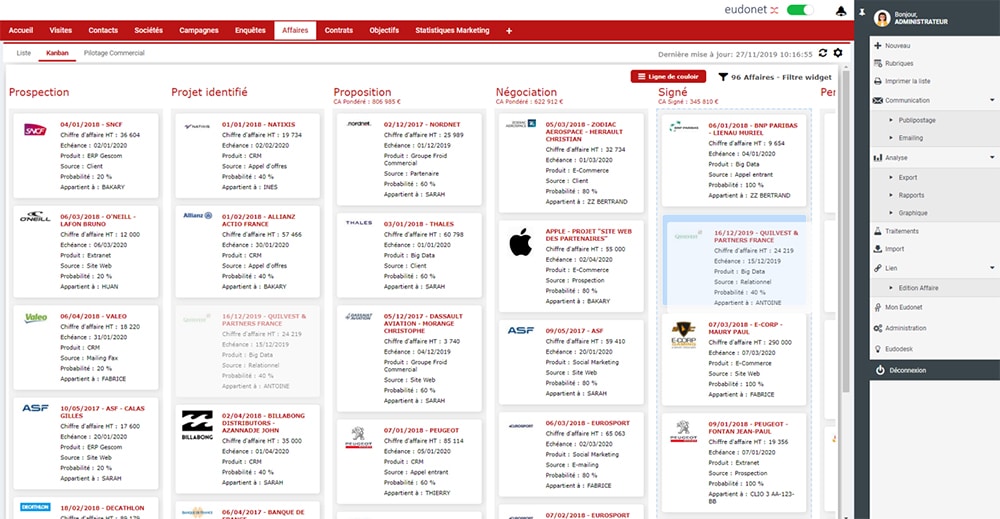 Analyze the potential of each opportunity
As well as running all aspects of your business, you also want to maximize the profitability of each project. The best possible management comes from having an overview of all essential information.
Eudonet CRM records are ergonomic and give you full overview of the information linked to each finalized deal or prospective opportunity. You can easily view the source of any deal, the sales manager responsible for tracking, every potential client's contact details, a client's sales history, the diary bookmark, meetings, reminders, collaborative notes, costs and bids in appendices.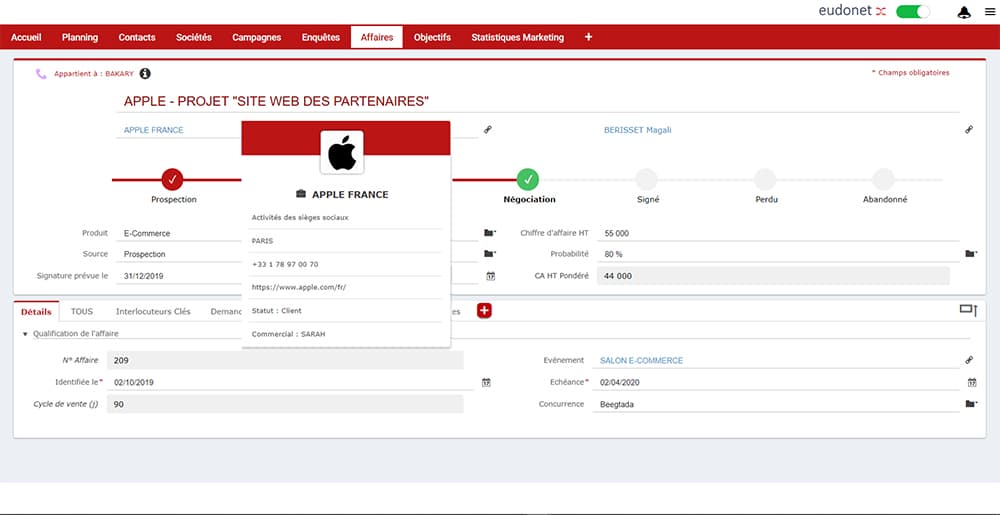 Maximize your sales cycle
By speeding up your sales cycle you are ensuring you remain competitive in your market and also maximizing the profitability of your projects. With this in mind, you have to be able to quickly identify any deals that require a bit more effort to lock in the sale.
You can automate any short-, medium- or long-term sales process via Eudonet. Your CRM encourages you to organize and prioritize actions meaning you can respond at the right time to ensure each prospect becomes a client. You can also establish reliable forecasts, objectives and completion dates and also view your weighted turnover based on your own criteria.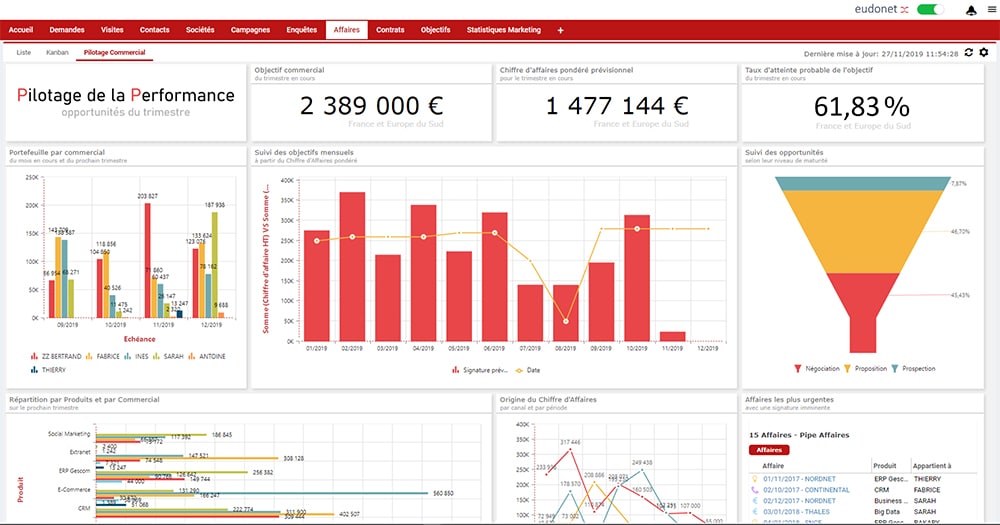 Expand your client portfolio
Your sales strategy does not only focus on increasing your client base through successful communications campaigns. It is also about quantitatively and qualitatively growing your sales with your existing portfolio of clients.
You can use Eudonet's centralized data to improve your client knowledge. Using their purchase histories, you can suggest additional purchases or reach out to other teams and departments at your client's company (cross sales). These additional sales fit perfectly within your customer retention strategy and your growth strategy for each client.
Analyze your results, improve your performance
Objective, profitability, performance, growth, etc. These words are part of your daily lexicon and drive you to rise to challenges. In order to analyze trends and formulate forecasts, you need a solution that can combine all the available data. Then you will be in a position to fully understand your successes and also analyse any areas for improvement.
With Eudonet you have access to a database of opportunities, sales and an overview of your key performance indicators in order to analyse your results, including client segments, product or service type, seasonality/frequency, price points, margins, discounts, geographical area, individual or team sales performance, competition, and so on.
A QUESTION ? CONTACT AN EXPERT !
BÉATRICECRM Expert