Survey your contacts and use the results as drivers for growth and innovation.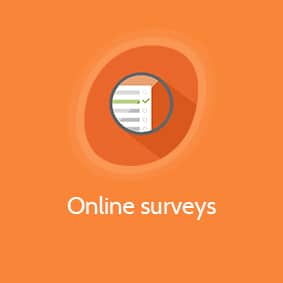 Collect data on the needs and expectations of your contacts and use the results to help your organisation grow.
Survey your contacts on the levels of customer satisfaction they receive, ask them about their opinion on your products and services, the relevance of your membership offer, project execution, gathering client feedback or for a basic statistical survey to inform a piece of research, amongst other things. Give your contacts a voice and turn the information you gather from surveying them into useful indicators for your business.
This extension is simple to use and allows you to create surveys, polls and other monitoring tools in just a few clicks. The potential uses are vast: open questions, simple or multiple choice, indexes, tick boxes, compulsory and optional response fields, etc. You can build the survey that meets your needs, based on what you want to research.
You can monitor all responses in real-time and you have the option to automatically create and edit graphs, pivot tables or basic raw data reports. The reports make interpreting your data easy, so you can extract the data your need and use it to help make fully informed business decisions.